Lingayat Boarding - About us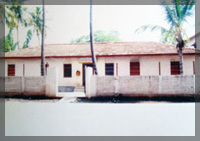 Sri. Murugharajendra Veershaiva Lingayat Boarding was established in 1913. The active social worker Shri. Shivalingappa Ghevare, Shri. Shankarrao Khokale, Shri. Krishnappa Dadge and Shri. Basaappanna Chougule collected some amount, they took some lead and the above said society came into existence.

In 1919 the building of 20 rooms of the boarding was built. In 1950, Shri. Babanna Ghuli became the president of the society. People noticed the erge of education. President Ghuli went to people for financial support and people also supported like anything so in 1955 building no.2 of 20 rooms became ready.

The idea of education for women was noted and it was spread in the society so there was a need of ladies hostel. Women started to learn, growth of ladies students started to increase so it was hightime of well equipped ladies hostel.

Shri. Babanna Ghuli and his brother Shri. Gurulingappa Ghuli gave handsome donation for boys hostel and Shri. Appasso Sinhasane gave the huge donation for ladies hostel.
In order to cherish their thoughts no. 2 hostel was named as Ghuli brothers hostel and ladies hostel was named as Late. Bhagirathibai Sinhasane hostel.
In order to give support the ladies of the lingayat society Sri. Akkamahadevi Mahila Mandal was founded through Boarding. In order to produce the religions and cultural impact Boarding started to celebrate religious and cultural programme but to do this full flesh building became a need.

So in March 1973, Akka Mahadevi Shivanubhav Mandap was built. Some cultural activities, classes of yoga lectures are arranged for the women in this Mandap.
Boarding is owning four specious buildings. So hostel facility is available for 150 boys & 25 girls. Previously meals were available to students free of cost. Now a days meals are available with very small charges of compared to charges at outside.

In the boarding Flag hosting ceremony on 15th of August and on Republic day 26th Jan, Basaveshwar Jayanti, Akkamahadevi Jayanti, Mahatma Phule Jayanti, Karmveer Bhavurao Patil Jayanti are celebrated from the very beginning.

The Programmes like gathering of Bride-Groom, gathering of disable persons widows and diverse people are organised in boarding.

New Basavraj library has been established, so students have been benefited and they are enriching their knowledge through medium.

Hot water is available for students in boarding. There are fans in their rooms. The programmes like lecturers on the various topics, career counseling for 10th and 12th students and personality development programmes are organised in the boarding.

In the boarding coaching classes of Yoga for men & for women are arranged. Blood Donation Camp are arranged. The collected blood is made available to needy people. Health Camps are also arranged in the boarding.

Now, the boarding own the land of 1 acer. The four buildings in this area have become old so build the new building is in our plan.

The project of 6 to 7 crores of RCC building is under consideration. Capacity of the hostel will increase twice or thrice. The project includes Veershaiva Bhavan, Mangal Karyalaya, Mall, Shops, badminton hall, Multipurpose hall, boarding facility for outsiders, Self contained suits for Sri. Jagadguru and temples of Veershaiva Lingayats.

To bring this project into reality we need financial support from the people of society.



To start this project have some funds. When we will start to built this project we planned to give the names of donor to rooms, halls. So such people should contact the boarding they should register their names.

To facilitate these things we are started our website. The names of Veershaiva Lingayat Industries, Merchants, Businessmen will be on this website. We are starting employment exchange in our website, So be needy person should take benefit of this website. Information and photos of brides and bridegrooms will be available on the website.

In coming two years Lingayat Boarding is completing a Century. So we request to oblige us.

Thanks you.